Analog. Digital. Magisk.
JD-XA er en unik crossover synth, der kobler den analoge varme sammen med den digitale alsidighed i et kreativt instrument. Først er der et four-part, all-analog monster med ægte analoge filtre og direct dry output. Derefter er der en four-part digital lydprocessor powered by Rolands SuperNATURAL synth-teknologi plus en imponerende samling potente effekter. JD-XA'erens engines kan bruges selvstændigt eller interaktivt og giver en fleksibel platform til lyddesign, studie- og live-performance. Brug de analoge og digitale parts side om side, stack dem op og få den vildeste lyd eller shape digitale waveforms via de analoge filtre og lav lyde ingen har hørt før. Med JD-XA handler det ikke længere om enten analog eller digital - bare luk øjnene og forestil dig fremtidens lyde og hop ombord i musikken.
Standardfunktioner
Avanceret synthesizer med separate analoge og digitale sound engines
Discrete analog synth engine (fire parts) med 2 x OSC, Filter, Amp, 4 x Env (2x Pitch, Filter, Amp) og 2 x LFO per voice plus Analog Dry Out for raw signal output
Den analoge filtersektion inkluderer 4-Pole, Transister-ladder og multi-mode (LPF, HPF, BPF) fíltre med glidende, naturlig respons på drejeknapperne
OSC sektion inkluderer Cross Mod, Ring Mod og OSC Sync som alle kan bruges samtidigt
LFO rate dækker bredt fra ultra-slow til ultra-fast
Superhurtig attack envelope time
Separat digitalsektion bygget op omkring SuperNATURAL Synth-engine (fire parts, 64 voices) som er kompatibel med INTEGRA-7 lydbiblioteker fra Rolands online Axial lydportal
Digitale parts kan routes gennem den analoge filtersektion for den varme, organiske lyd
Dybe effekter med MFX for alle parts plus fem systemeffekter (Reverb, TFX1, TFX2, Delay og Master EQ)
Fleksible routing-muligheder for kreativt lyddesign
Intuitiv 16-spors pattern sequencer (8 spor til interne, 8 spor til eksterne) så du hurtigt kan lave sange og loops
Indbygget USB, MIDI og CV/GATE interfaces og fleksibel MIDI control-fuktionalitet gør JD-XA det ideelle midterpunkt for livekoncerter og musikproduktion
Mic input gør det muligt at modulere synthlyde med din stemme og dykke ned i klassisk en Vocoder
Masser af bagbelyste drejeknapper, sliders og controllers for hands-on sound shaping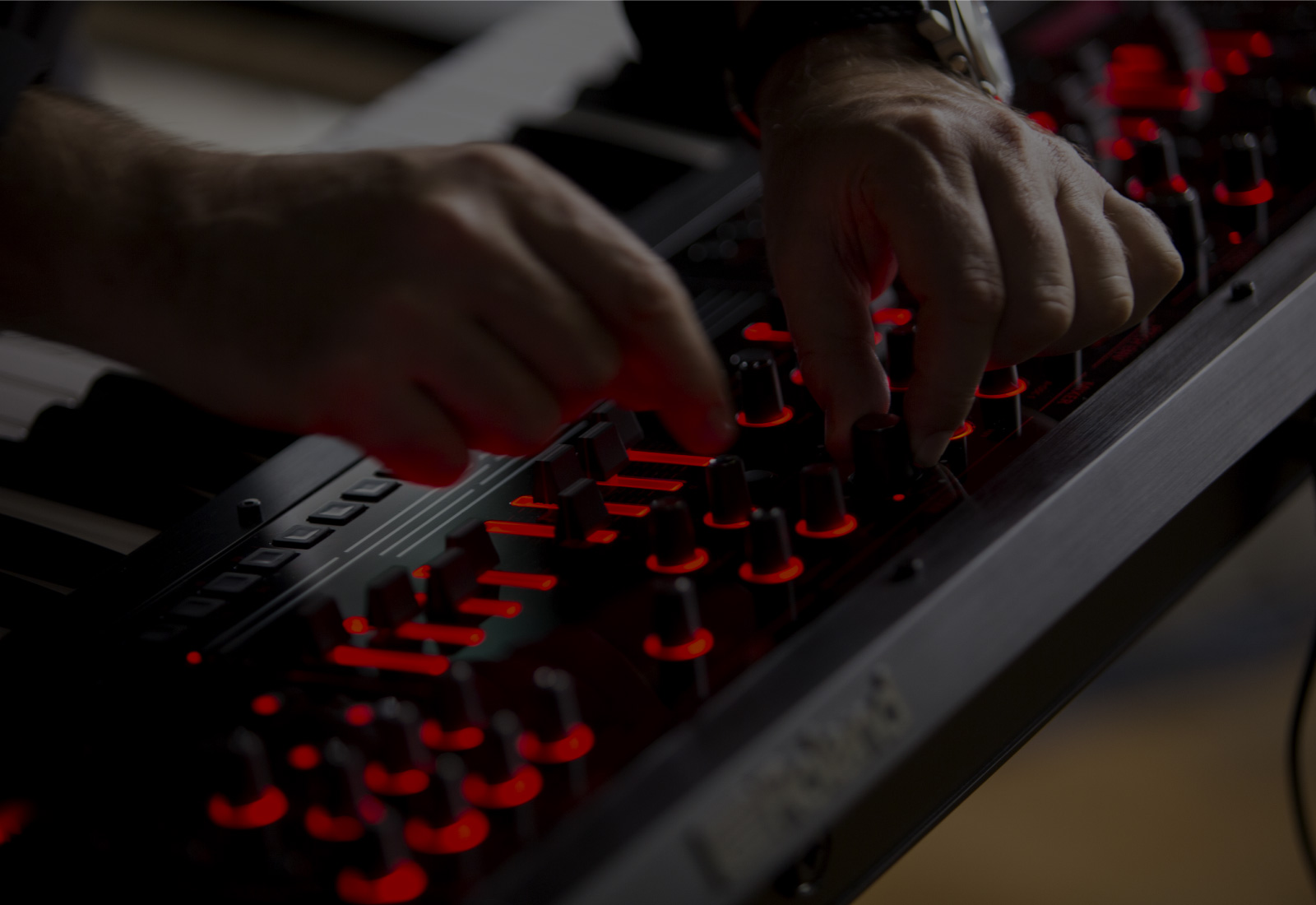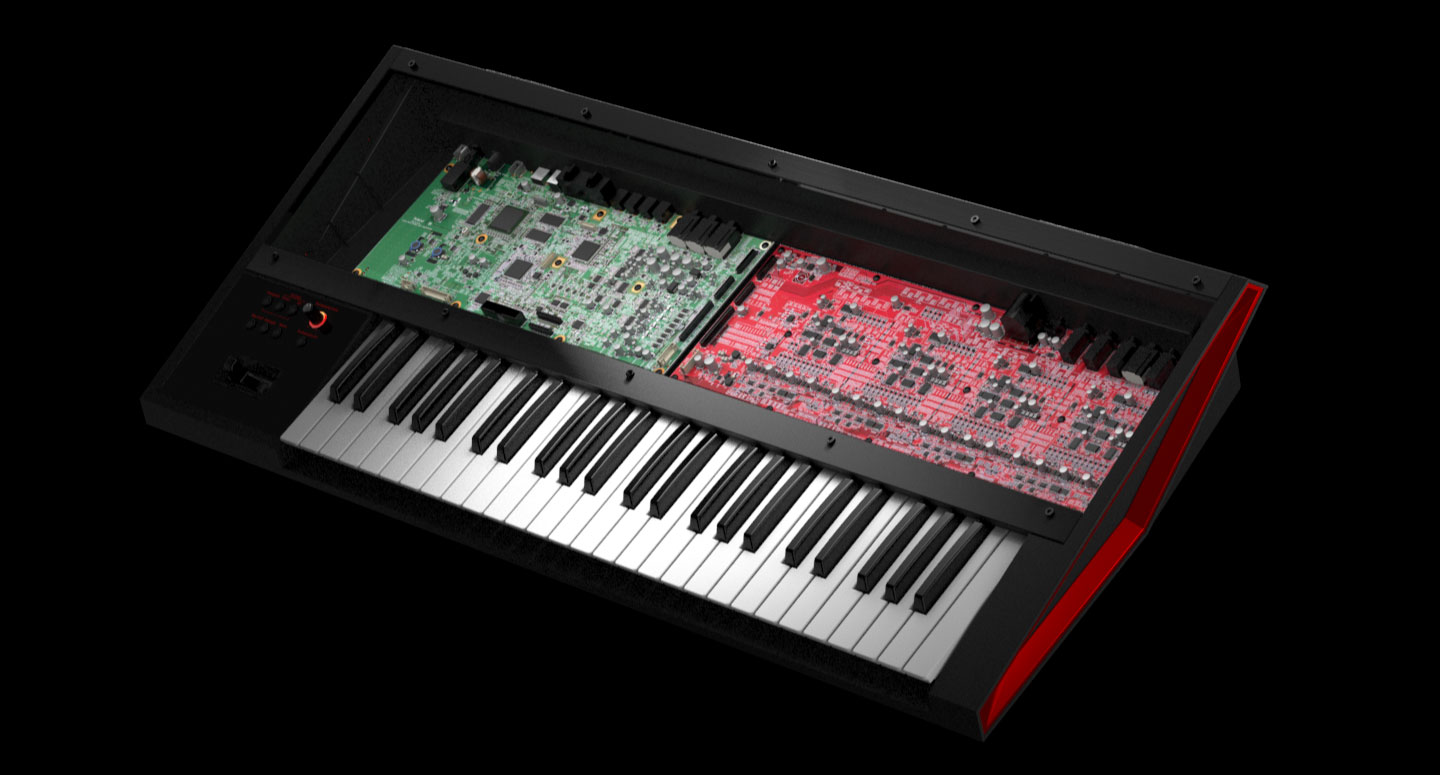 Den analoge engine
Hver af de fire analoge parts påJD-XA har to oscillatorer sammen med filter- og ampsektioner og fire envelopes - alle med utrolig hurtig attack- og responstid. Du får også to LFO'er med glidende overgang fra ultra-slow til ultra-fast. Start med at bygge din sound op fra bunden eller konfigurer JD-XA som en otte-oscillator, ren analog version af den legendariske Supersaw waveform. Eller åben op for den powerfuldePolyStack mode og få varme, organiske firklangsakkorder. Når du har den fede analoge sound kan du route den direkte til det analoge dry output eller sende det til de indbyggede digitale effekter og eksperimentere videre med dit lyddesign.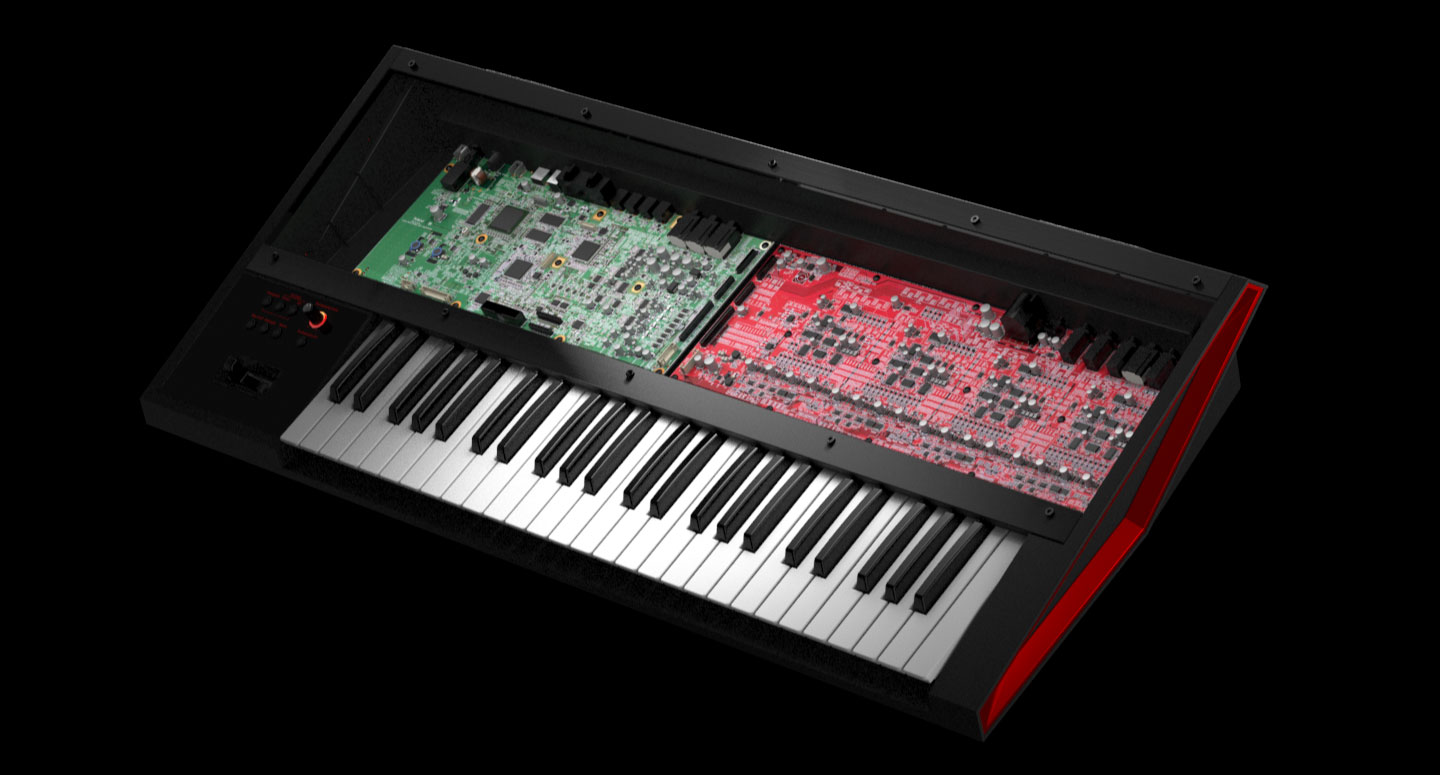 Den Digitale Processor
JD-XA er ikke kun en klassisk analog - den er også udstyret med en separat fire-part, 64-voice digital lydprocessor med Rolands SuperNATURAL synthesizer-teknologi. Dette giver dig mulighed for at spille med nogle af de mest udtryksfulde og naturtro lyde eftersom JD-XA er kompatibel med den synth engine, der idder i INTEGRA-7 sound module, førstevalget blandt topproducere, komponister og lyddesignere. Og har du brug for lidt ekstra inspiration, så besøg Rolands Axial community og download de seneste kreationer af fantastiske lyde fra high-end programmører.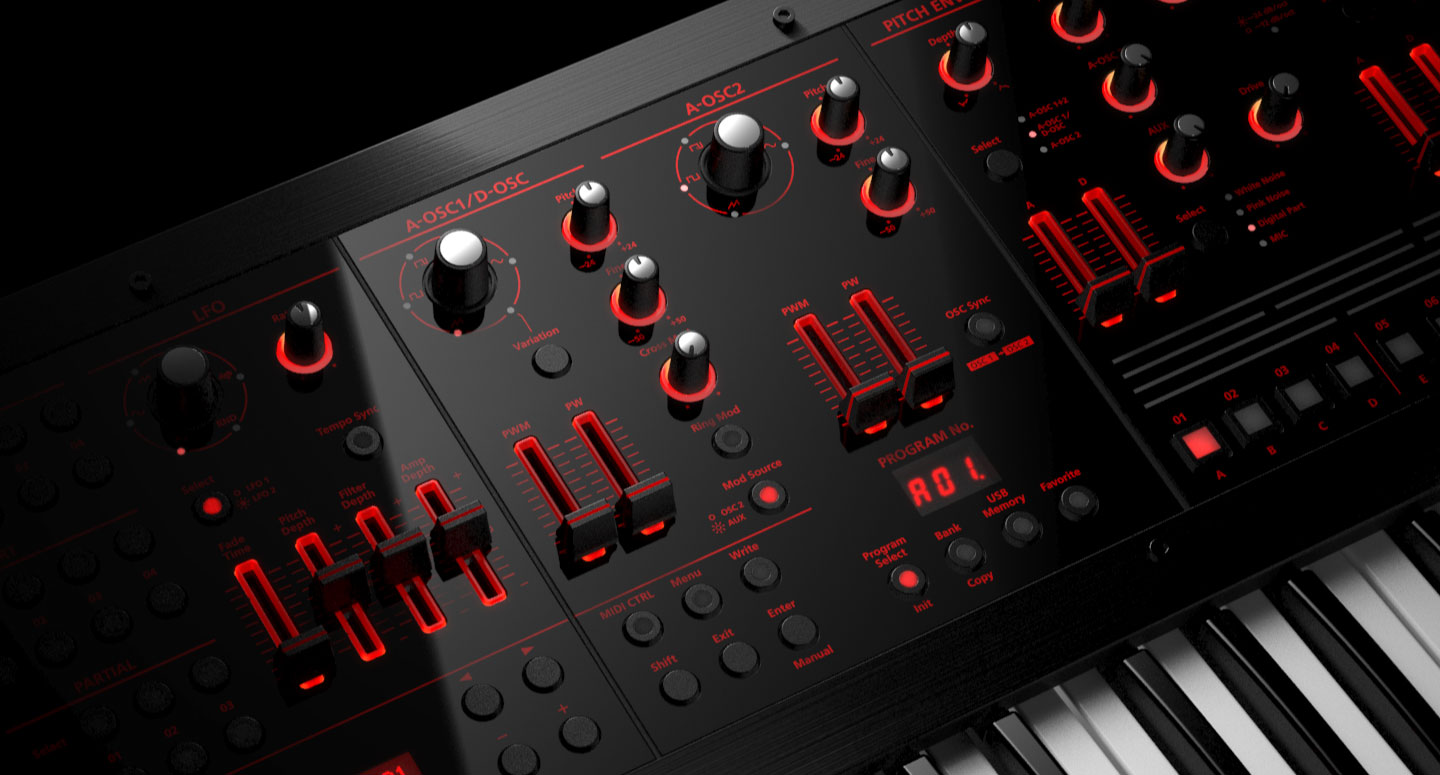 Analog and Digital Working Together
Den det distinkte crossover-design er JD-XA unik i dens tilgang til synthesizere. Du kan blande de to processorer sammen hvis du vil, men du kan også bruge dem helt individuelt og i sandhed have to synther i en. Den analoge og den digitale processor kan ydermere interagere på mange kreative måder. Eksempelvis kan digitale lyde routes gennem de analoge filtre eller bruges som modulationskilde for Cross Mod og Ring Mod-funktioner i den analoge sektion. Hvis du har vilde ideer angående lyddesign har du brug for en powerfuld og fleksibel synth og her leverer JD-XA på alle hylder.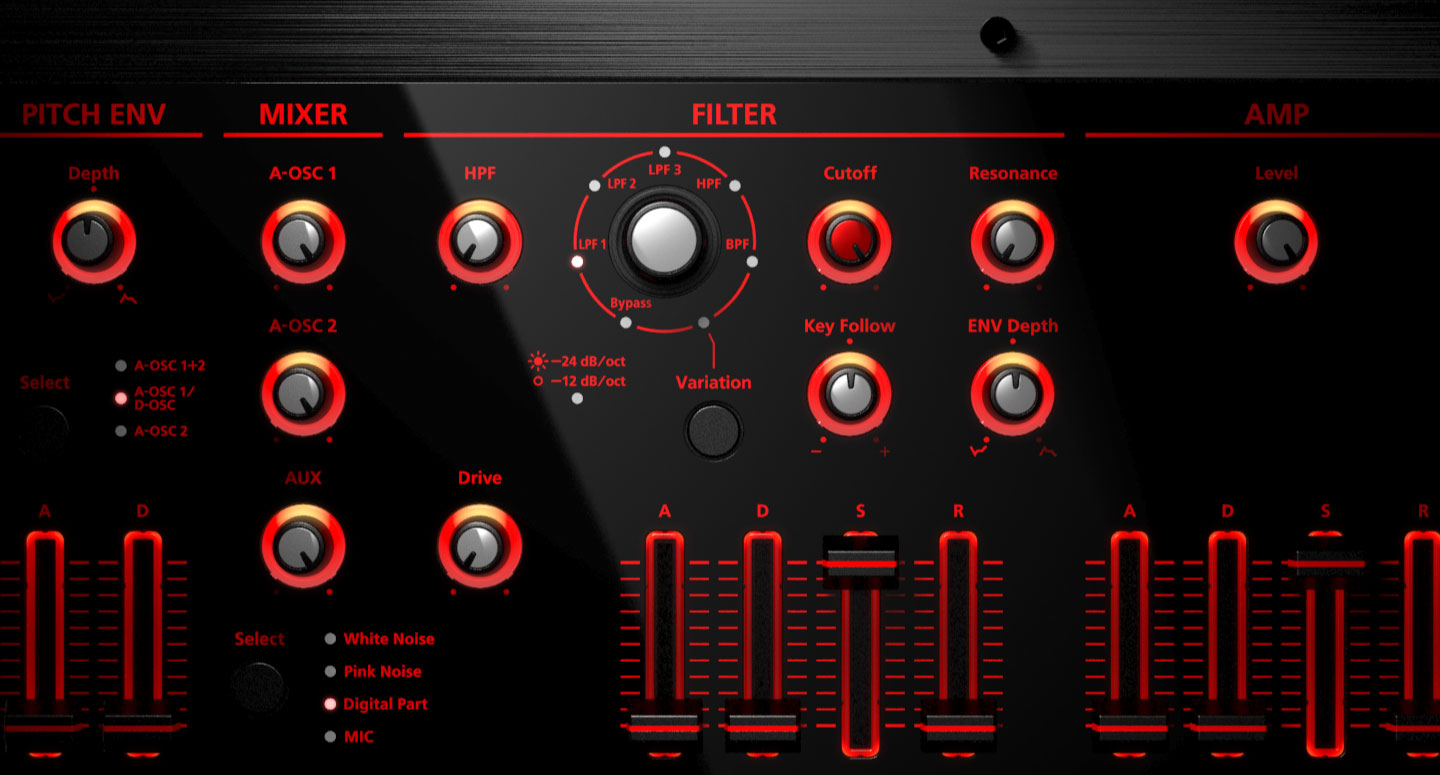 Lækre, Varme Analoge Filtre
Filtrene i JD-XA'erens analoge sektion er 100% analoge og giver dig en smooth og varm lyd og organisk respons. Der er den klassiske 4-pole, en transistor-ladder med stærkere karakteristika og en multi-mode filtermulighed for de essentielle LPH, HPF og BPF duties. Takket være et helt nyt kredsløbsdesign leverer resonansen på multi-mode-filtret en unik, powerfuld og cool lydkarakter. Og fordi filtrene er fuldstændig analoge får du en super smooth slope når du drejer på knapperne uden hop eller uønskede effekter.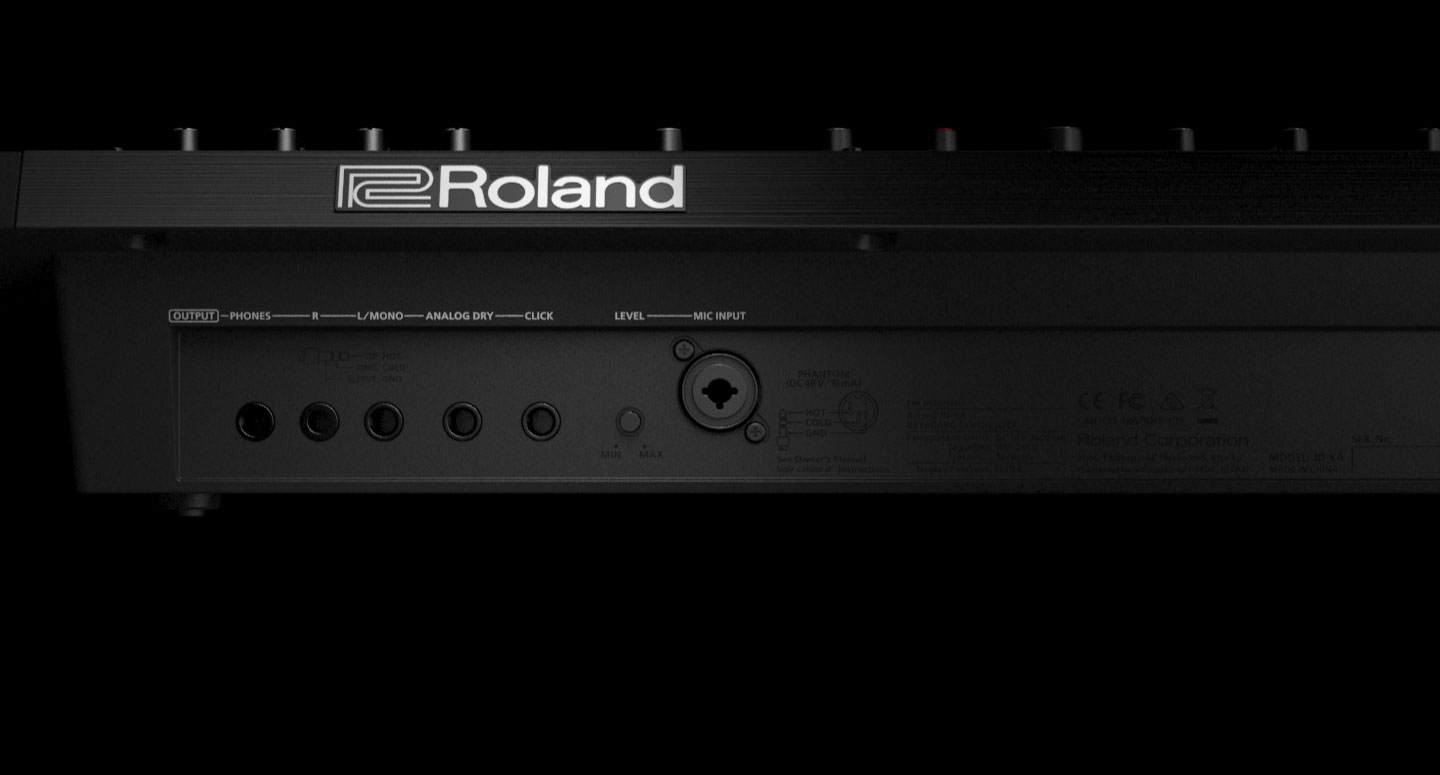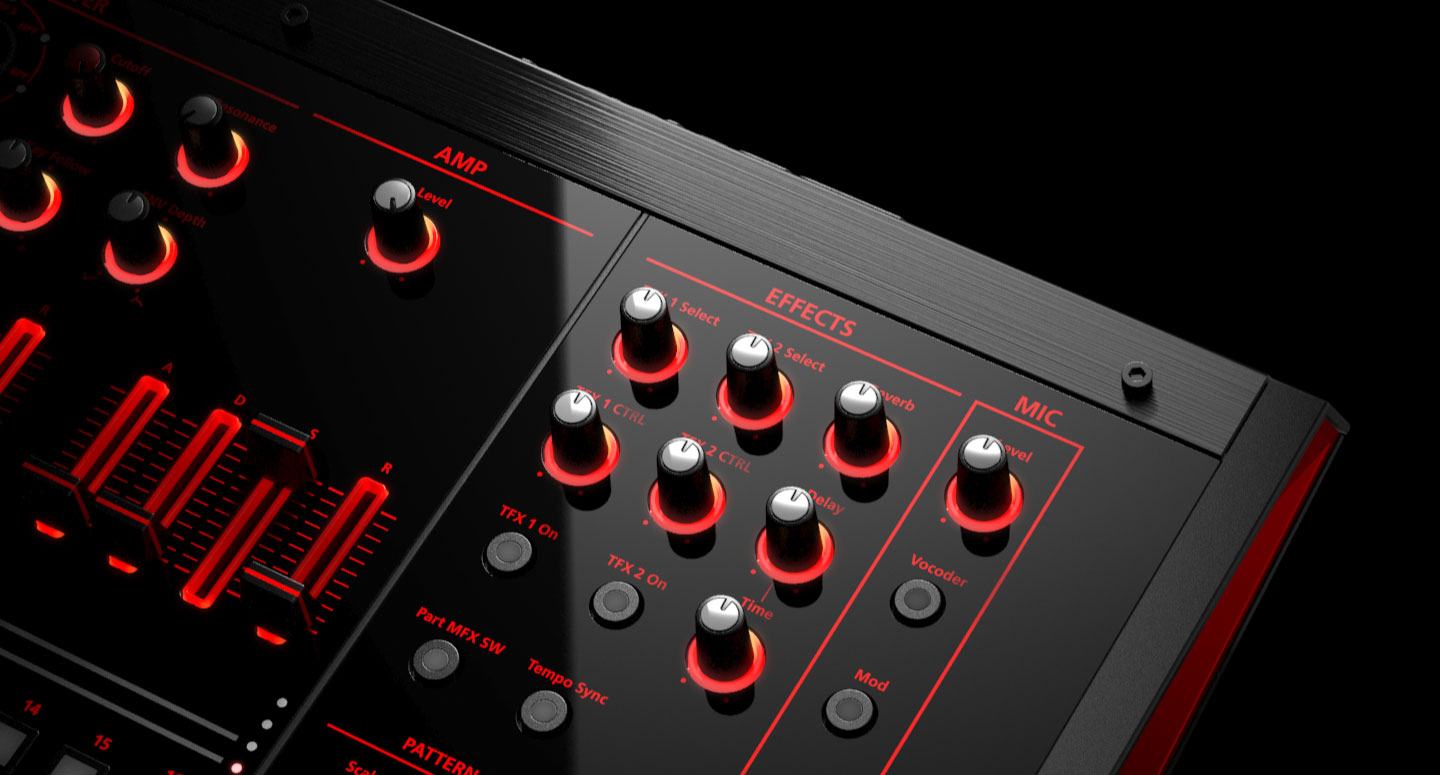 Powerfulde Effekter til Enhver Situation
Når det kommer til effekter er JD-XA udstyret til at håndtere enhver sound shaping du vil tilføje. Hver analog og digital part er udstyret med en powerfuld og alsidig MFX processor der leverer 67 forsdkellige effekttyper, inklusiv high-impact processing options såsom Bit Crusher. De essentielle er også dækket via de fem systemeffektprocessorer, der leverer rumklang, delay og master EQ plus to TFX processorer med hver 29 effekter.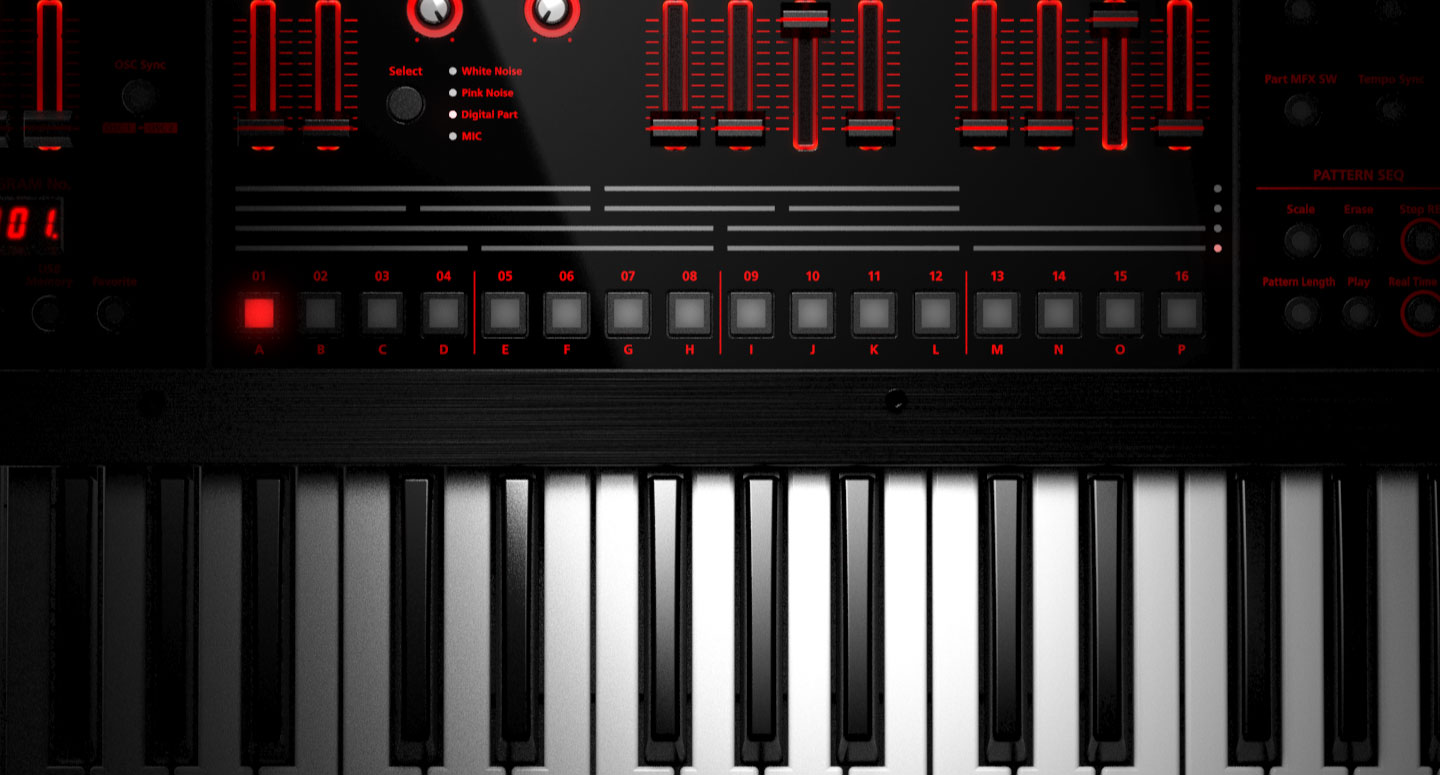 16-track Pattern Sequencer med Real-Time og Step Recording
Med alt denne power lige ved hånden får du lyst til at hoppe direkte til at lave musik. For at få kreativiteten til at glide har JD-XA en omfangsrig 16-track parttern sequencer med 8 spor til eksterne kilder, der gør det muligt at bygger sequences og loops hurtigt og intuitivt. Brug real-time recording til at lægge parts ned i den genkendelige lineære facon eller step recording i old school pattern-stil. Uanset hvordan du arbejder er denne sequencer designet til at holde dig forbundet til musikken - JD-XA handler om inspiration, ikke afbrydelse.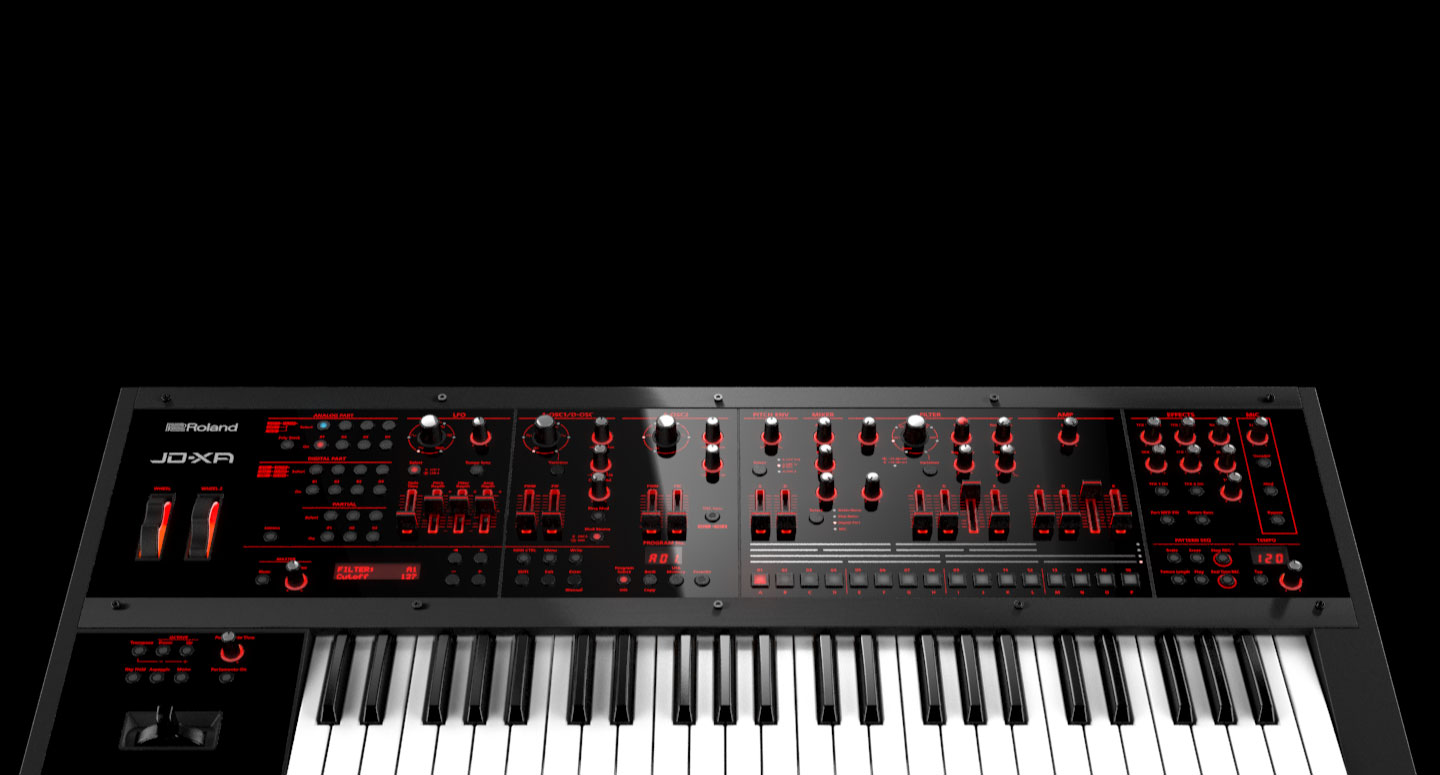 Powerfuld og Fleksibel Routing og
hands-on kontrol
Power er intet uden kontrol, så JD-XA'erens interface er bygget op så du har overblikket over de fantastiske sound engines' potentiale. Det anslagsfølsomme keyboard understøtter aftertouch og du har masser af bagbelyste sliders, drejeknapper og drejehjul til at shape din sound. Der er også hidtil usete routing-muligheder takket være et fleksibelt system, der gør det muligt at route en enkelt mod source til fire destinationer. Derudover er du i stand til at kontrollere eksterne moduler eller DAW plug-ins via MIDI, USB og CV/GATE, hvilket gør, at denne synth kan fungere som hjertet i ethvert live- eller studiesetup. Hvis du kan frestille dig det, så kan du sikkert udføre det på JD-XA.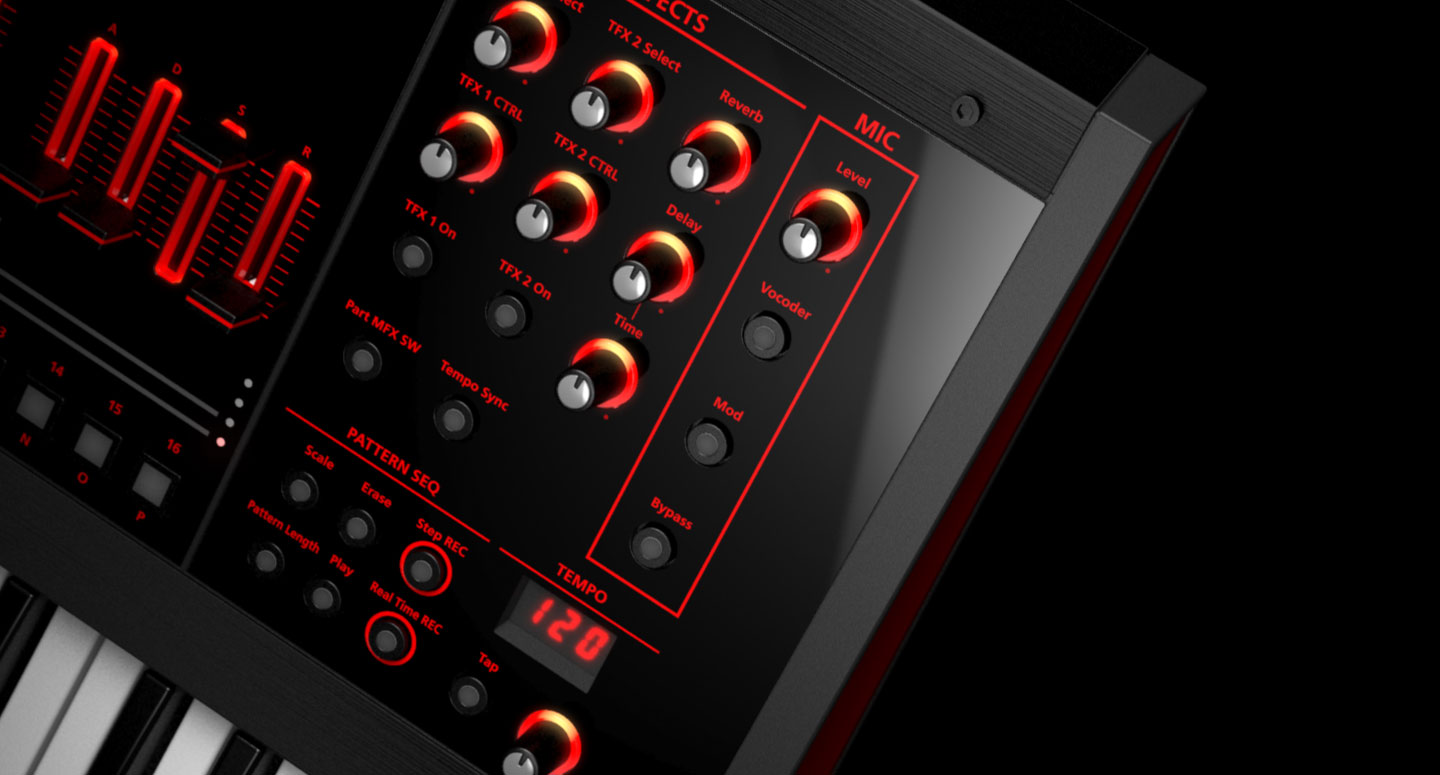 Alsidig stemmestyret Modulation
og Indbygget Vocoder
JD-XA'erens mic input giver en ekstra dimension til din musik. For det første kan du bruge en mikrofon som modulation source og kontrollere filter cutoff, Cross Mod eller andre parametre med din stemme. For det andet kan du få Vocoder-lyde eller vælge blot tilføje lidt professionel rumklang via mikrofonens dedikerede rumklangsprocessor. Uanset om du vil snakke, synge eller synthesize kan tilslutning af en mikrofon til JD-XA føre til fantastisk musikalsk ragnarock. Eller ragnapop. Eller ragnadance.
USB Interface og CV/GATE outs for Kontrol af Analogt Gear.
JD-XA har et indbygget USB audio/MIDI interface som arbejder gnidningsfrit med dit foretrukne DAW. Den er også udstyret med to CV/GATE outputs som gør det nemt at arbejde sammenmed populære CV/GATE instruments. Dine analoge eller modularesynths kan styres direkte fra JD-XA'erens keyboard eller pattern sequencer, eller fra dinegenvelkendte DAW når JD-XA er integreret i dit musikproduktionssetup via USB.
Crossing Over
JD-XA Det bedste fra begge verdener: Kombinerer digital og analog lyd

Explore