Powerfuld og kompakt synth med indbygget pattern sequencer og vocal FX
JD-Xi er lille og billig men dog stor og mægtig med sin ægte analog synth engine, Rolands berømte SuperNATURAL synthlyde og mange andre kreative muligheder under samme tag. Dette kompakte instrument har 37 minitangenter men leverer fede og fyldige analoge bas- og lead-tones med masser af controls til hands-on tweaking samt en polyfonisk PCM del med pads, strings, brass og mere. Lav imponerende loops på ingen tid med pattern sequenceren og de indbyggede trommesæt og dyk ned i de udtryksfulde vocal textures med gooseneck mic, Vocoder og AutoPitch. JD-Xi er lille af størrelse men kæmpemæssig i sin alsidighed og sin store lyd.
Standardfunktioner
Interaktiv crossover synthesizer med analoge og digitale sound engines
Analog synth section leverer autentiske lead- og bas-lyde
To digitale synth sections med SuperNATURAL synthlyde og 128-stemmers total polyfoni
Fire-tracks pattern sequencer og rytmer i høj kvalitet
Gooseneck mic inkluderet til brug med indbygget Vocoder og AutoPitch
Bearbejd lyde med fire simultane effekter (Effect 1/2, Delay, Reverb)
USB til audio/MIDI-kommunikation med computer music software
Inkluderer en stor samling af ready-to-play lyde og patterns
Ekstra lyde og patterns kan downloades fra Rolands Axial sound library site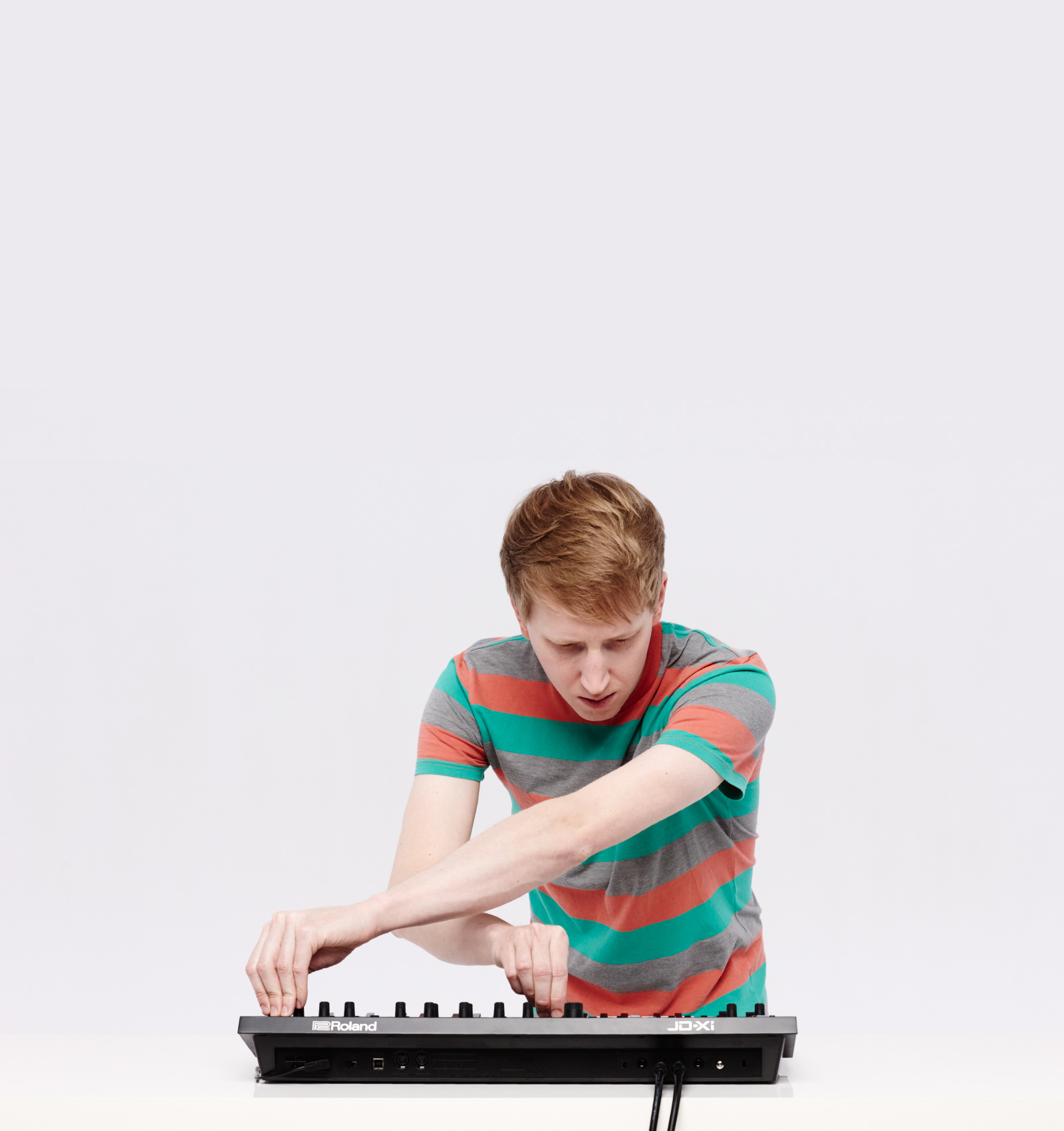 ANALOG OG DIGITAL SYNTH I ET KEYBOARD
JD-Xi har, med sin unikke crossover sound engine, det bedste fra begge verdener: den varme, fyldige respons fra en klassisk analog synth og klarheden og alsidigheden fra en moderne digital synth. Den nyudviklede monofoniske analog synth section har både saw, triangle og square waveforms med pulse-width modulation og et analogt filter plus en selvstændig sub oscillator til at give ekstra low-end power. To digitale synth sektioner leverer 128-stemmers polyfoni og en bred vifte af højkvalitets SuperNATURAL synthlyde, der inkluderer pads, strings, elektrisk piano, lydeffekter og mange andre.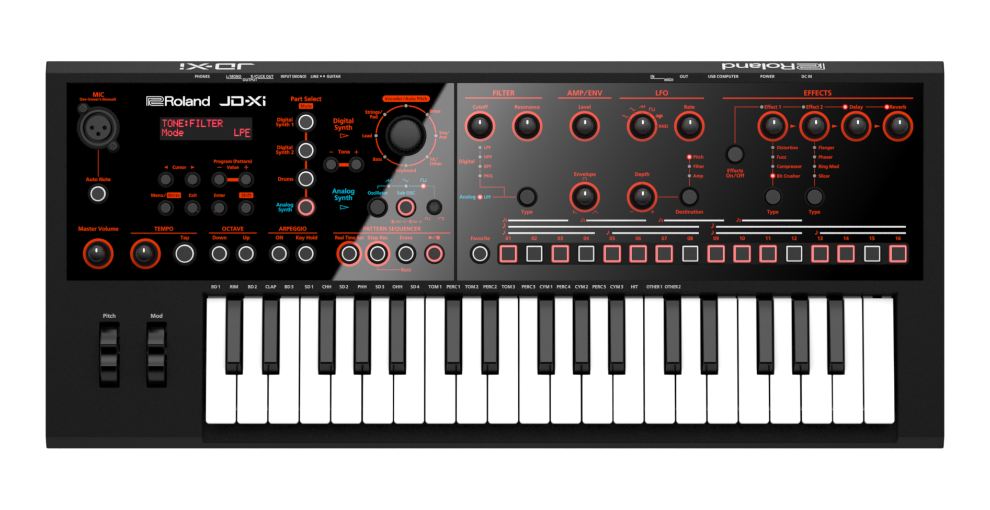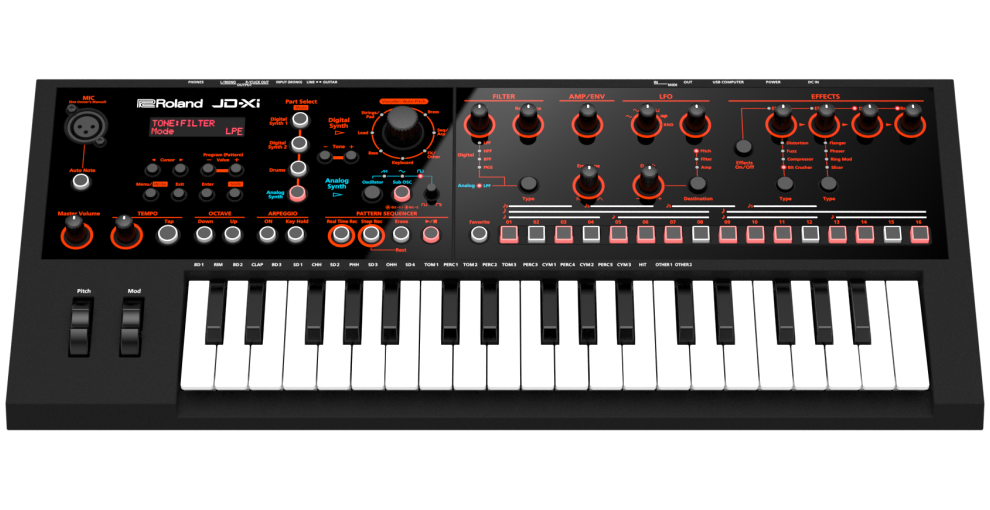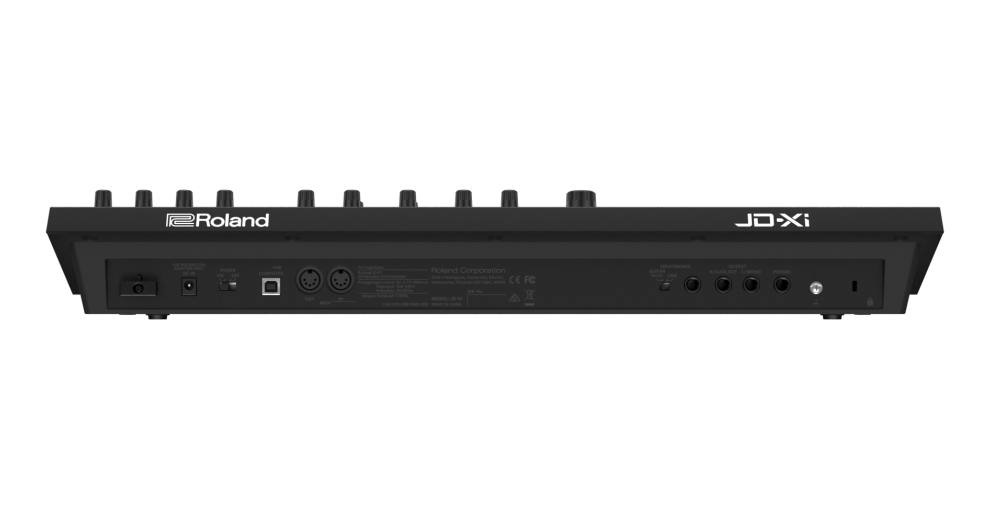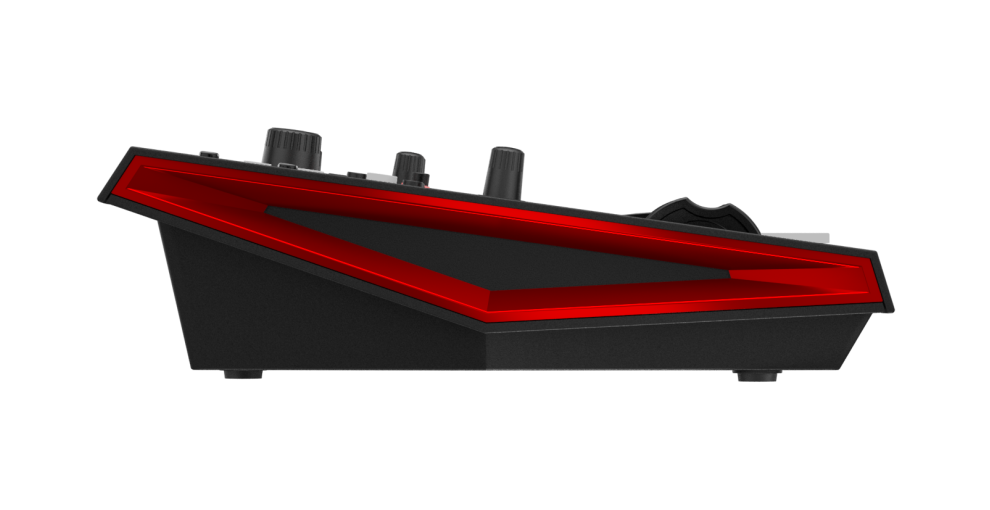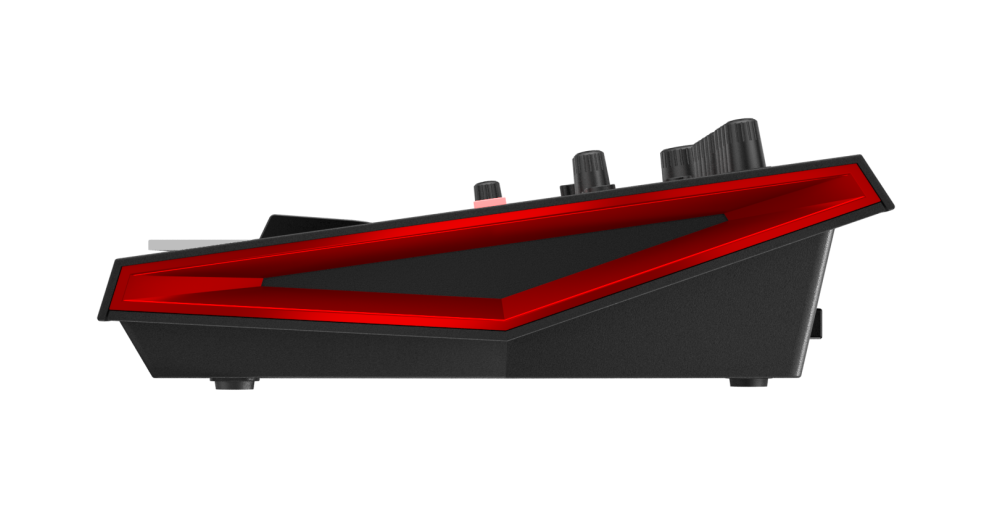 GOOSENECK MIC TIL VOCODER, AUTOPITCH OG ANDRE VOKALEFFEKTER
JD-Xi kommer med en solid, højkvalitets gooseneck mic, der giver det hele et ekstra løft. Ved at bruge Vocoderen kan du synge i mikrofonen og styre tone og pitch via lydene du spiller på keyboardet. Med AutoPitch er det enkelt at opnå den overdrevne, robotagtige vokallyd, som man hører i dagens pop og elektroniske stilarter. Der er også en cool Auto Note-funktion, der gør det muligt at "synge" JD-Xi synthlyde, uden at røre keyboardet!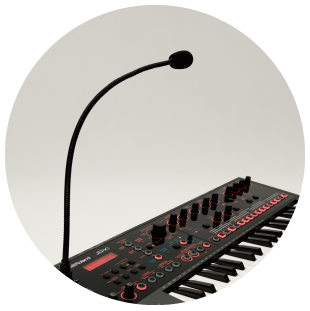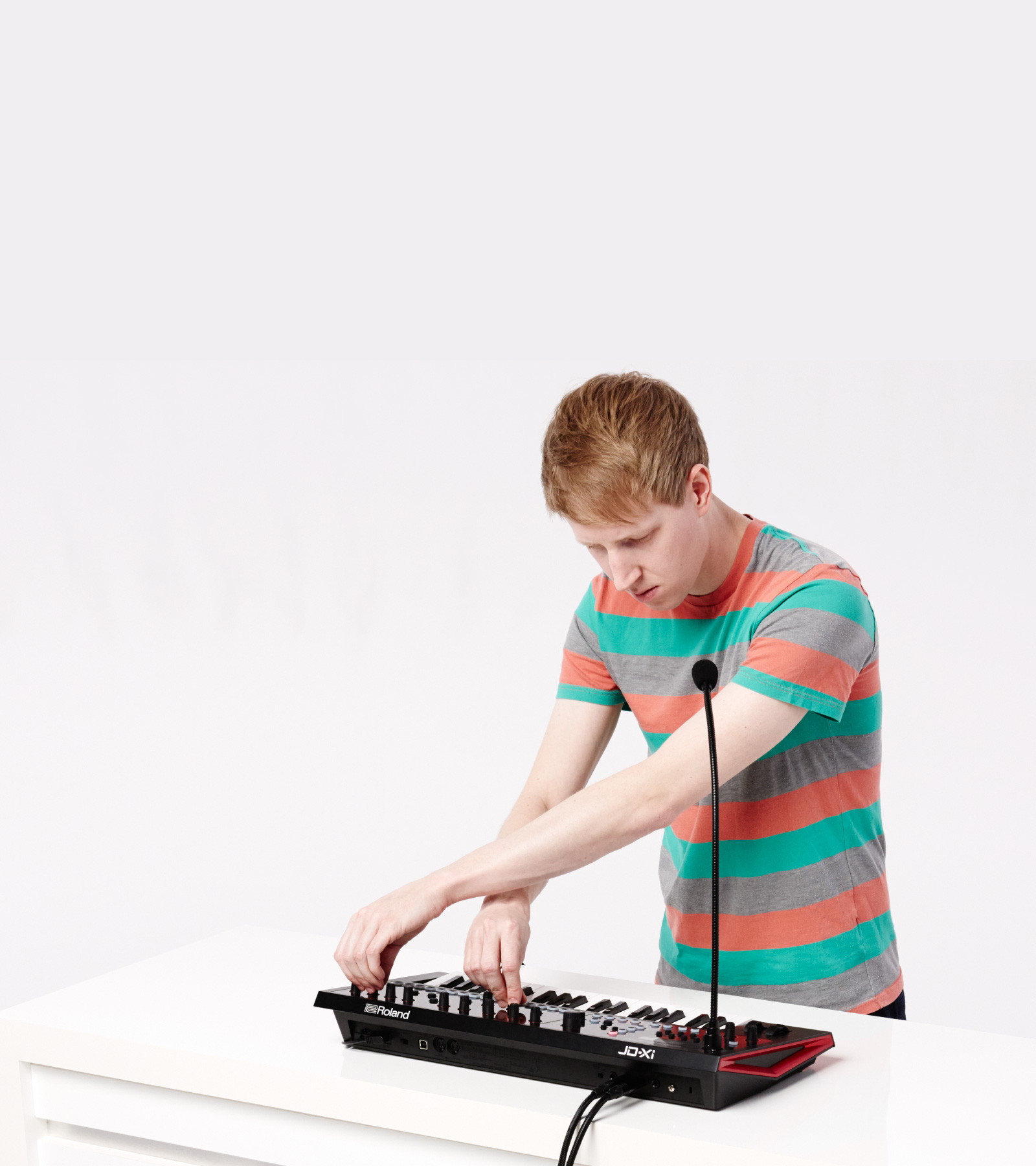 BYG LOOPS MED
FIRE-SPORS PATTERN SEQUENCER
Ved at bruge den intuitive pattern sequencer og en stor samling af indbyggede lyde kan du skabe og performe detaljerede stykker musik blot ved brug af JD-Xi. Sequenceren har fire separate spor - to digitale synth parts, analog synth og trommer - og giver dig muligheden for at opbygge fede loops i enhver genre. Du har både real-time og step recording, samt en speciel TR-REC mode, hvor du kan programmere i stil med Rolands klassiske TR-serie beatboxes. Det er nemt at spille patterns og tweake lyde mens du performer og mange preset patterns er lavet så du kan jamme lige med det samme.
PRO TROMMESÆT FOR
HIGH-IMPACT BEATS
JD-Xi er spækket med en bred vifte af dynamiske trommesæt og leverer kvalitetsrytmer der passer til ethvert groove. Der er inkluderet mange typer elektroniske og akustiske trommesæt og drum instrument assignments er praktisk placeret lige over tangenterne for hurtig identifikation. Du kan også gøre dine kits personlige ved at indstille filter, envelope, pitch og pan parametre på individuelle trommelyde.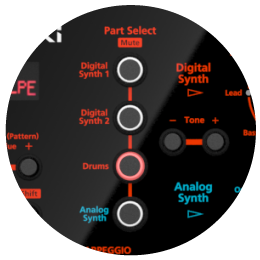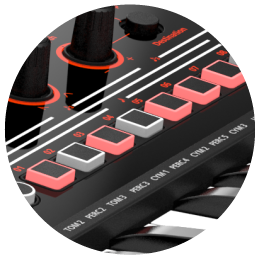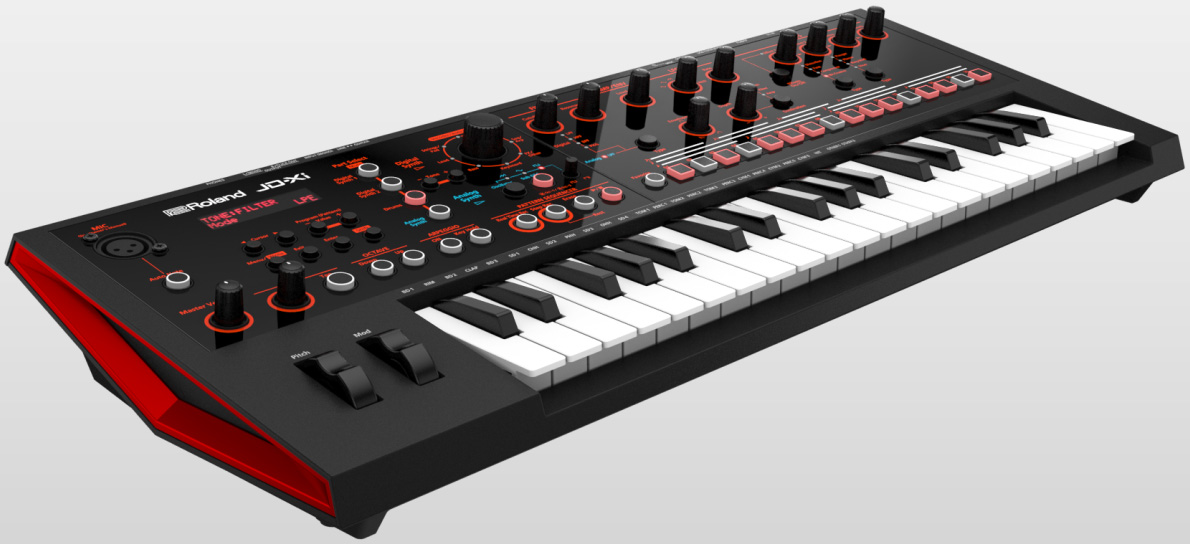 GØR DINE LYDE FEDERE MED IMPONERENDE EFFEKTER
JD-Xi kommer med fire simultane effektsektioner, der kan tilføres enhver lyd. Effekt 1 og 2 leverer valgbare effektmuligheder såsom Bit Crusher, slicer og Ring Mod mens dedikerede Delay- og Reverb-sektioner gør det nemt at envelope lyde i rumagtig ambience. Hver effektsektion kan tændes og slukkes separat for de tre synth sektioner og trommer, så du kan shape dit mix med alskens kreative kombinationer.
DOWNLOAD EKSTRA LYDE PÅ ROLANDS AXIAL SITE
Har du brug for lidt ny inspiration eller blot en lyd til et bestemt stykke musik? Gå ind på vores hjemmeside Axial sound library, hvor du kan finde stigende samling nye og gratis lyde og patterns til JD-Xi. Axial har også lyde til mange andre Roland synths, som alle er skabt af top lydteknikere og førende artister indenfor elektronisk musik.