Med AIRA Modular Customizer kan du fuldt ud omprogrammere den interne signalsti på Roland AIRA Modular-effekter. AIRA Modular Customizer er kompatibel med TORCIDO, BITRAZER, DEMORA og SCOOPER pg gør det muligt at re-patche en lang række virtuelle sub-moduler for fuldstændig kontrol over hver effekts signalsti.
Fleksibel og uendelig signalsti
Du kan fuldt ud skræddersy den interne signalsti på AIRA Modular-effekter med en lang række virtuelle sub-moduler. Det er muligt at gemme og recall patches i realtime og du kan endda dele patches med andre brugere af AIRA Modular-effekter.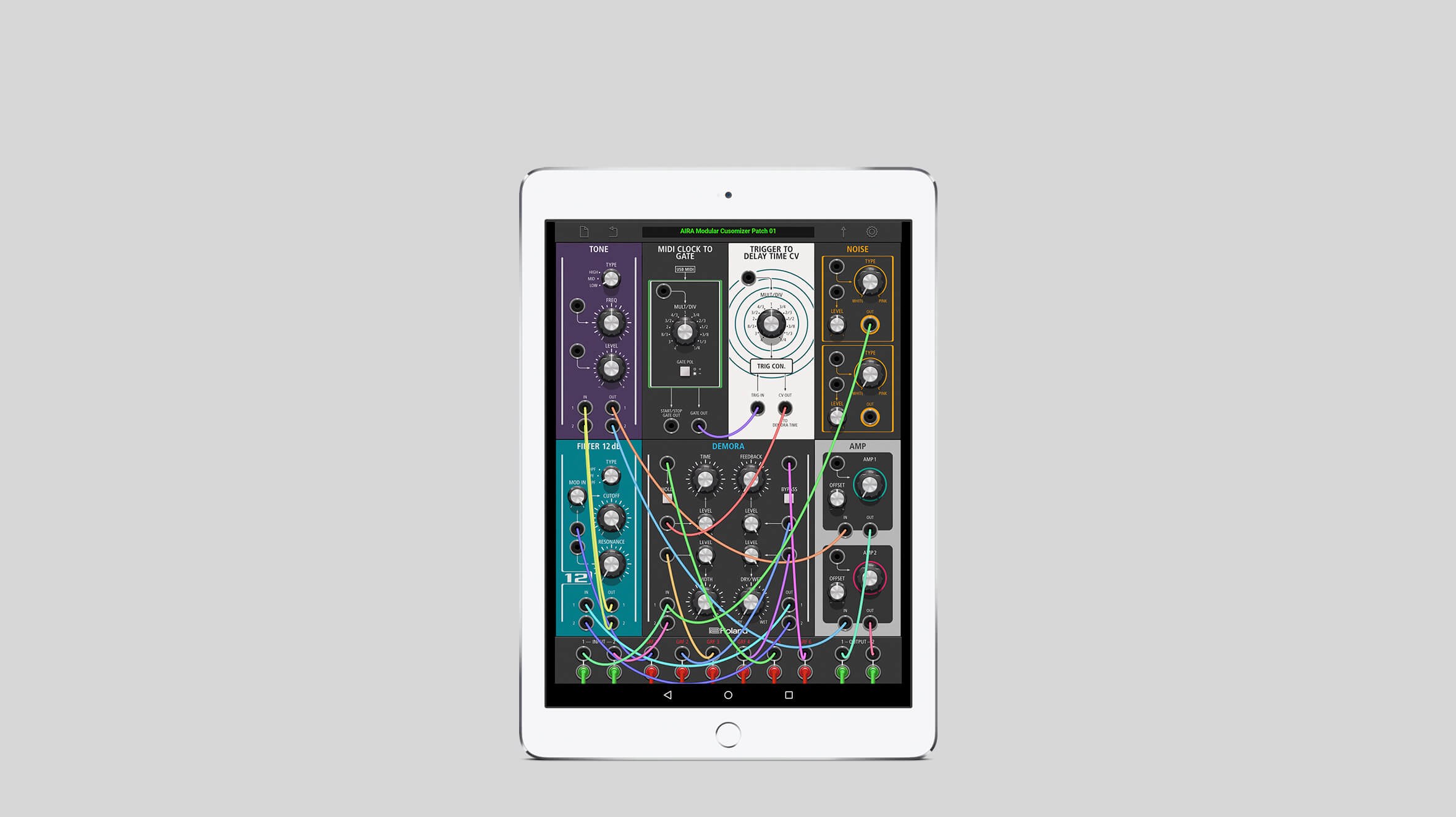 Variable virtuelle sub-moduler
AIRA Modular effects inkluderer 31 virtuelle sub-modules med flere tilgængelige gennem kommende udvidelser.
De inkluderer:
LFO, ADSR, NOISE, SAMPLE & HOLD, RING MOD, FILTER 6 dB, FILTER 12 dB, TONE, AMP, MIXER, STEREO MIXER, CURVE CONV, GATE DIVIDER, TRIG TO CV DELAY TIME, MIDI CLOCK TO GATE, SHORT DELAY, TUBE CLIP, COMPRESSOR, NOISE GATE, 3 BAND EQ, LOGIC OPERATION, CROSS FADER, SWITCHER, ENVELOPER, TRIGGER TO LFO RATE CV, FILTER 18dB, FILTER 24dB, FORMANT FILTER, SAW OSCILLATOR, SQR OSCILLATOR, MIDI NOTE TO CV/GATE
Re-patch via audiosignal
Tilslut dit hovedtelefonstik på din smartphone eller tablet til REMOTE IN på ethvert AIRA modular effektmodul og du kan skræddersy signalstien i realtime.. Husk at indstille volumeniveau på din mobilenhed til maksimum.
Bemærk den maksimerede volumeniveau på dit mobile gear.
Kompatible modeller
BITRAZER

DEMORA

TORCIDO

SCOOPER